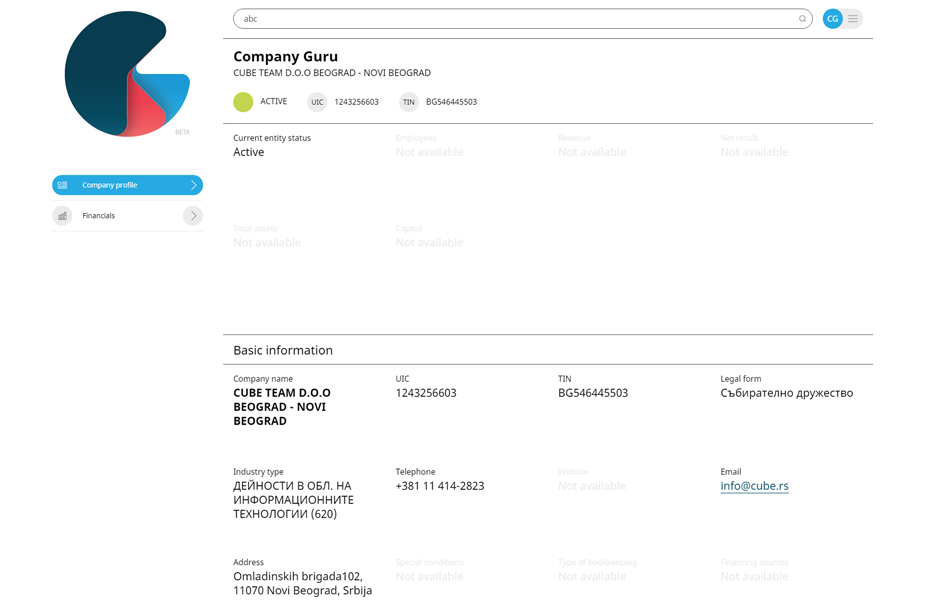 Complete source of business data
Dealing with customers in debt can be costly and interfere with your everyday work. Avoid these situations by using our portal. Create a precise and efficient evaluation of your prospective and potential partners by making their financial statements available to your team. This way they can confidently plan next moves for months ahead and intelligently manage the risk. You can find an array of business information, including balance sheets, earnings and expense reports.
Available functionalities include:
Quick company search
Company profile
Activity Review
Finance
Directors
Management structure
Register Now
Control panel
The Control Panel offers an overview of your company history searches using the date of the inquiry. In case you've located and forgot a search result, easily rediscover it by browsing through this section.
Register Now
Quick search
Searching for companies and related parties is easy and includes all registered companies in Bulgaria. Suggestive search allows you to see the ones with a similar name, regardless if you've entered only a part or full name.
Dig into company data using:
Keywords, name and part of the company name
Tax number - VAT
Unified Identification Code - UIC
Name and surname of a director or representative
Register now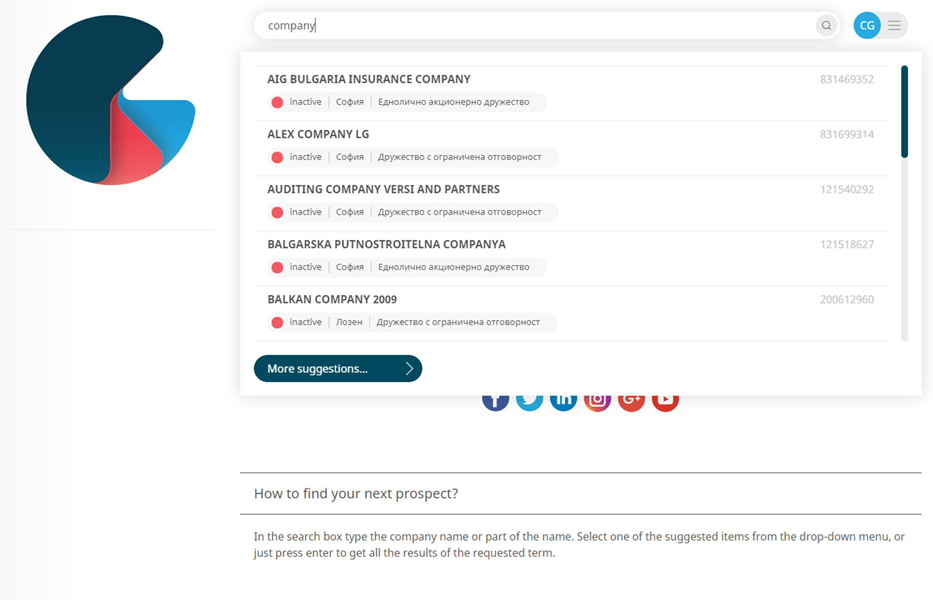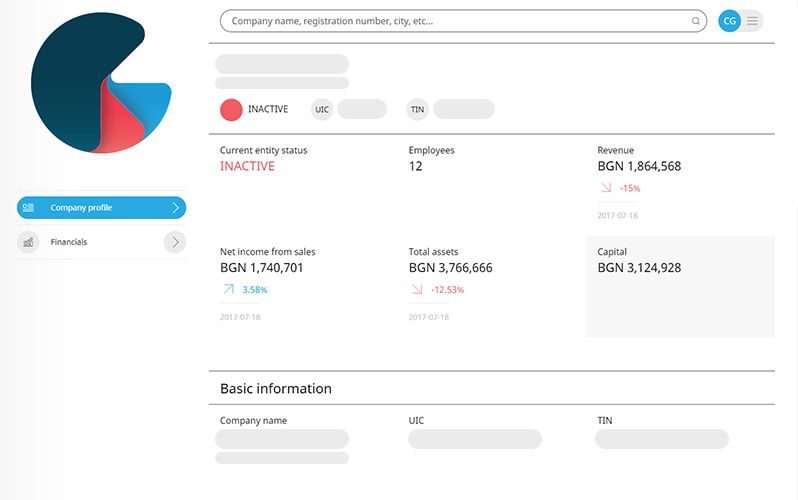 Search Criteria
If several companies meet the search criteria, Company Guru will propose a list containing the business name, UIC, status (active / inactive) and the registered activity. Companies who share or have similar names, but different core business will be easily detected.
Even if you know only director's names but not the name of the company, we will create a list of all who share the same name and last name. A quick glance at the extra person-related information will help you find exactly the ones you are looking for. In addition to the name and last name of the person, choose between age, gender, origin, and a number of businesses who employ them.
Register now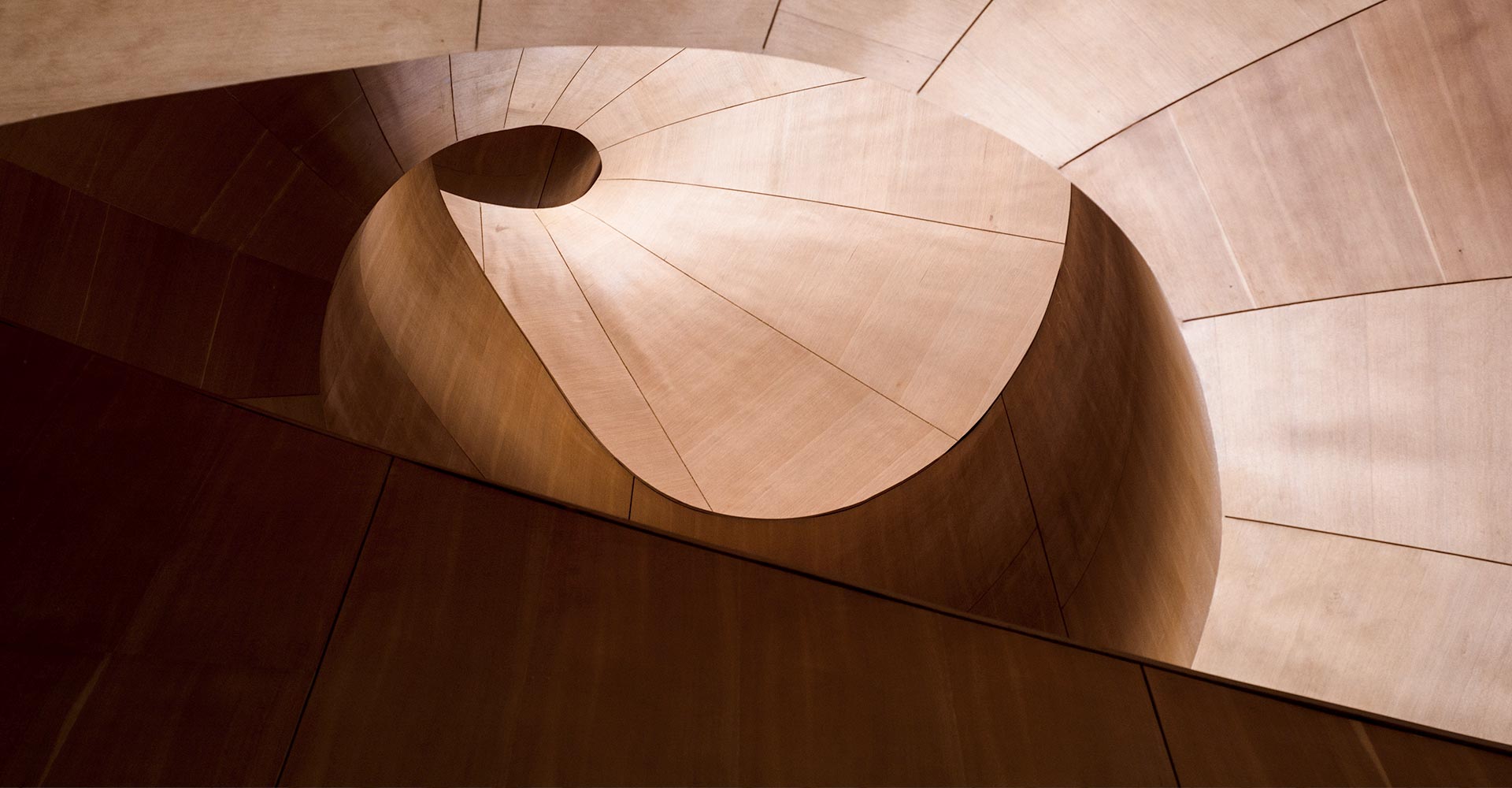 Company profile
Company Guru lets you easily track company changes such as new name, status, address, and much more. The management structure shows you who the business owners are, and how many there are, as well as their ownership percentage.
Find detailed financials, documents and similar companies, including your clients and partners in the click of a button. Search data is divided into basic and additional.
Register now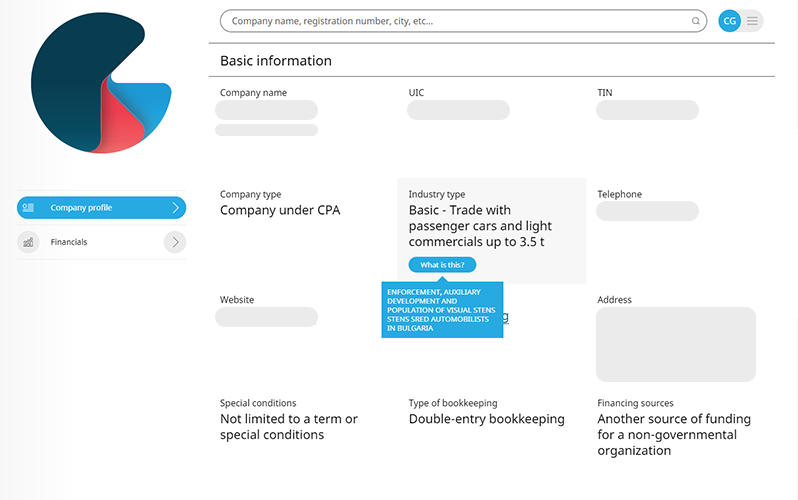 Basic search data includes:
Status of the legal entity
Number of employees in the company
Revenue from operating activities
Net result
Capital
Additional search data:
Full business name
UIC and VAT number
Date and manner of incorporation
Telephone and seat and management address
Email and web address
Legal form and main activity of the company
Form of bookkeeping
Sources of funding
Date of deletion and termination of a commercial activity
Directors
Detailed overview of the activities
Company Guru allows you to find the precise moment when any alteration is made to the company you are following. They can range from financial, status, to changes in general business information, and many more. You can retrospectively review any major changes in a particular business with just a quick look at the Infographics.
Some of the data and metrics available for the companies you are looking for:
Change of representative information
Change the rest of the business data
Register now
Finance
Financial reports are a safe and practical way of verifying the success of each business. We have optimized the performance of the information by creating an option to compare the finances of several companies at once.
Balance sheet
Statement of income and expenses
Cash flows
Financial indicators
Create charts with desirable metrics. Select how you want to know if a company's business is growing and developing, stagnant or falling.
Register now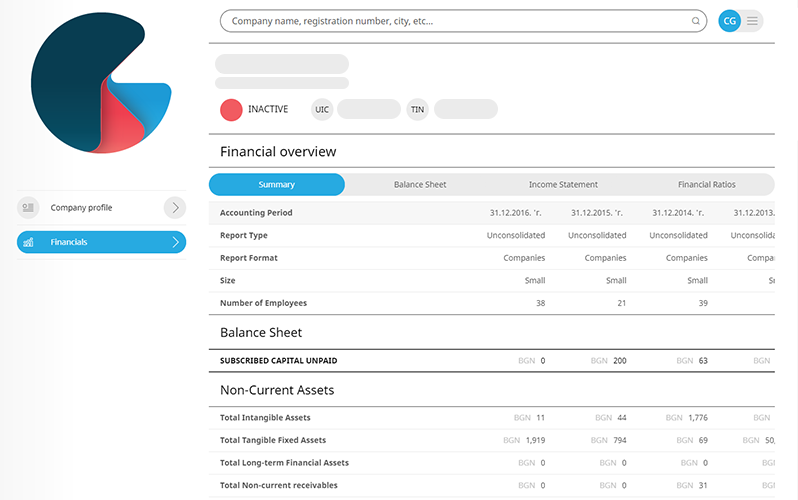 Management structure
Company Guru provides data about the real company owners and the capital behind it. Explore the business structure, reveal their true owner and percentage of ownership. Another useful feature of this section is a chronological overview of management changes.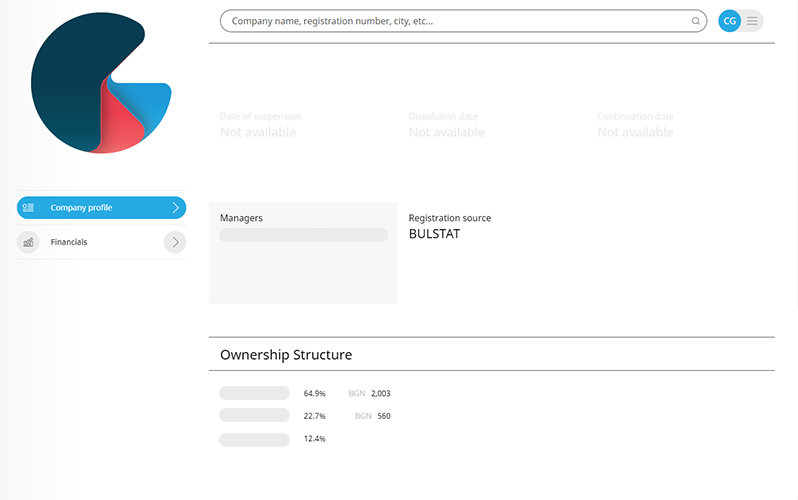 Directors
If you are interested in finding who manages the company, the representatives and members of the board of directors, Company Guru will find these answers.
Information about the people who run the company speaks a lot about their interests, goals and the way they are achieved.
Name and surname of the representatives and members of the board of directors
Country of origin
Year of birth
Their position and term of occupying it
Possible involvement and shares in other companies
Register now
Lists
The list of companies allows you to keep your customers, prospects, or suppliers in one place. You can access in no time business information of companies within the list and refine and update your lists as you go. The best of all is that you can export lists data and enrich your CRM.

With Lists feature, you can:
Organize and track your customers or suppliers
Find new potential clients and keep your sales pipeline fresh
Keep an eye on your debtors or late payers
Make your own database or target list, which you can integrate with your systems.